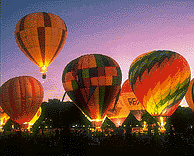 New York State & Vermont Balloon Festivals
& Balloon Flight Sites

The Adirondack Balloon Festival in Glens Falls, NY is one of the largest balloon festivals of its kind. This year is the 36th Anniversary - September 18-21, 2008.


StoweFlake Balloon Festival July 11 - 13




BALLOON EVENT SITES:

Balloon Festival of Warren, NJ

High Plains Freedom Flight II McCook, NE

Balloons Over Chautauqua and Sky Jam Jamestown, NY

Colorado Springs Balloon Classic

Gatineau Hot Air Balloon Festival Quebec/Canada

Kodak Albuquerque Int'l Balloon Fiesta

Lions Balloon Festival at Highland Village

Montague Rotary Balloon Faire CA / OR

National Balloon Classic Iowa

The New Jersey Festival of Balloning

Northwest Florida Balloon Festival 2002

Rocky Mountain Balloon Festival Denver, CO



Neighboring Canada

International Balloon Festival of Saint-Jean-sur-Richelieu Biggest balloon event in Canada, 125 balloons, 20 special shapes, 2 daily flights http://www.ballooncanada.com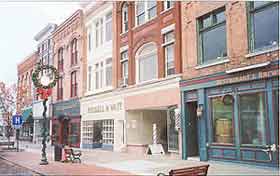 The City of Glens Falls.
"Gateway To The Adirondacks"
We invite you to visit www. GlensFalls.com, the premier online guide to the City of Glens Falls & Queensbury, New York showcasing hundreds of exciting attractions throughout Glens Falls and the Adirondack region of Upstate New York.Glens Falls is famous for its quintessential charm and small town appeal and the city has recieved numerous awards and designations including Look magazine's "Most typical" small city designation in 1944, Readers Digest selection as one of the top 3 places to raise a family in the U.S., and US News ranking of Glens Falls as one of the top 300 places to live in the United States.

Blowin' In The Wind
Ballooning is more than just hot air
Adirondack Life - By Mark Freeman
Let's say you want to experience something new, exciting, even a little bit dangerous. Like me, you rule out bungee jumping, which in essence involves two guys tying you up and throwing you of a tall building. Maybe you've tried scuba diving or parasailing or ice-climbing and you lust after another thrilling experience. Try hot-air ballooning. It's nothing like any of the above nor is it the least bit hazardous.
There is one thing it is like. It's exactly like the dream of flying many of us have. Not a nightmare of falling, but that dream in which you float like a bird - effortlessly, unafraid - over treetops. If you can vividly remember that sort of dream, you know what hot-air ballooning is like.
While ballooning seems cosmically simple, there's far more to it than just becoming lighter than air. Weather is a prime concern. A certified pilot like Phil Jackson, of Adirondack Balloon Flights, in Queensbury, won't fly if the breeze is more than a few knots or if the forecast calls for more wind later. He won't go up if rain or snow is likely. A pilot has to be, among other things, a top-notch meteorologists.
Sometimes would-be passengers must wait a week for the weather to cooperate. We were lucky; on my maiden voyage, our first flight was scrubbed. But the next day was a go.
At 6:15 a.m. That day, we waited in a motel parking lot in Queensbury, Jackson and his crew arrived, released a small black helium-filled balloon and observed its speed and course intently. We drove five miles to a second location, repeated the wind check, then drove about ten miles to a small seldom-used airport in Argyle. After more sky study and another test balloon, the conditions were deemed suitable and the crew began filling the balloon. First using a huge fan to inflate it with unwarmed air, they next lit a big propane burner.
In about ten minutes the balloon was tugging at the ropes that restrained the wicker basket. My companion, in addition to the pilot, were a honeymooning couple from New York City. The bride was a bit nervous, but there was really nothing to be apprehensive about. We all scrambled in.
There was no sensation of speed or wind. Since the balloon moved exactly with the winds, a lighted candle aloft would not flicker. We didn't seem to rise, the ground simply fell away slowly. We looked down on cars, roads, trees barns and cows. Probably the greatest danger in ballooning is the compelling belief that you could just step over the side of the basket and soar like a kite.
We watched the chase car below is as its driver found all side roads that enabled him to shadow our course. I could watch my wife's car, too, as she dutifully followed the chase vehicle.
Adirondack Balloon Flights operates over the low, rolling hills of Warren, Washington and Saratoga counties. Knowing the area well, Jackson from a field in the northern part of this territory when the wind is light from the north, and reverse the procedure if breezes are southerly. That way passengers generally donŐt have long ride back where their cars are parked.
We went up in early October, an ideal time. There had been a frost the night before, and below us, in addition to the spectacular foliage, we could se the outlines of the trees' shadows in frosted areas on the ground. The sun rose over the Green Mountains. To the north and west, Buck, Black and Pharaoh mountains were clearly visible. We could see the Hudson river making the big bend at Glens Falls, small lakes and ponds and Lake George nestled among the mountains. That is, we could see where these bodies of water must have been; they were hidden under covers of puffy white early-morning mists.
As I watched Jackson, I was surprised to learn that a balloon has no steering mechanism. The pilot can make it rise by burning more gas or let it sink by not burning fuel, but the craft goes where the breeze takes it. Sometimes, a very experienced pilot like Jackson will seek out stronger breezes or even winds in a slightly different direction at varying altitudes, but that's all the guiding he or she can do. Passengers are seldom taken higher than a few thousand feet. The air at these heights is no colder that at ground level; in fact, on a cold early morning the sun warms riders in the sky more than spectators on the ground.
If a balloon went up on a totally windless day, it would return to the same spot from which it departed, but there us never a totally windless day. Most trips are like ours: we drifted north at about ten miles an hour, but came to earth very softly because the breeze was even more gentle at ground level than aloft.
After about half an hour Jackson picked out a landing spot: the end of a hayfield, close to a road. We descended slowly and touched down with only the slightest bump. After the balloon was secured, the deflation process began, and we were allowed to disembark. Along with the traditional champagne, Jackson served up coffee, doughnuts, apples and cheese. Immediately after landing, I signed up for my next ride. I'm hooked.
HOT AIR BALLOONING is available in many locations in the United States and elsewhere, from Maine to California and Canada to Asia, but it's doubtful that you'll see more beautiful country or have a safer, more comfortable ride than that which is provided right in the North Country.
Since the balloon rises best when there is the greatest temperature contrast between the sir inside the bag and the outside air, fall is the ideal season, and why the annual Glens Falls Balloon Festival is held in September. (While festival weekend is a wonderful way to see and photograph balloons, it's a lousy time to try to go up as a passenger.)
Jackson takes riders from early April to mid-November, quitting not die to the cold, but because deer season has begun. Balloons sometimes land early in the morning in fairly remote areas accessible only by two-lane dirt roads, and he has no desire to be mistaken for a deer by an overeager hunter.
If You Go
If you plan to balloon, ask about the pilot's qualifications. Some are more experienced than others, and no operator should be reluctant to answer questions about his or her certification. Some states are more strict about licensing than others. One thing is certain: a good pilot will seem to you to be extremely cautious. Adirondack Balloon Flights reportedly has more experience than any other outfit in New York State.
Expect to pay close to two hundred dollars for a trip that can last, at the pilot's discretion, about thirty to forty-five minutes. He or she has your safety in mind; if the wind starts to pick up or the area headed for is unstable for landing, the basket will be brought down immediately. The ride is well worth the price, especially when you consider that the balloon may cost up towards of fifty thousand dollars then there's the chase car, crew, insurance, fuel, equipment and training.
Anyone in reasonably good physical condition can balloon. Kids should be accompanied by an adult, of course, and it's unwise to take very young children. Adirondack Balloon Flights suggest that persons over seventy should not go, a precaution that is included primarily to be sure that the elderly consider this activity careful. Plenty of senior have gone up; if you're spry enough to clamber over the side of a four-foot-high wicker basket using a step stool, you are spry enough to go. There is an extremely remote possibility that, in a very bumpy landing, the basket will turn over on its side. If you see that coming, pick out someone soft to land on.
In twenty years and twenty thousand passengers, ABF has averaged about one scrape or bruise per season, none requiring a hospital visit. Motion sickness is almost un heard of, since there is no apparent motion. Common sense should preclude persons with severe heart or lung problems and similar medical concerns from going ballooning.
You might think that common sense would also keep people from showing up for the ride in high heels, dresses or other inappropriate garb, but it hasn't. Clothing fit for light hiking us suggested; dress in layers. A windbreaker is essential, and gloves and a hat may be very welcome on a cool morning. Fields can be wet early in the day, so wear sturdy footgear.
A camera and plenty of film are a must. If possible, have a friend on the ground take pictures too. Some passengers bring binoculars; I did, though I didn't use mine much. It's fun to follow your route on a country road map, but don't bother the pilot with too many questions about where you're headed.


Calendar of Events |  Vacation Rentals |  Real Estate |  Lodging & Accomodations
Dining |  Summer Sports |  Winter Sports |  Arts & Crafts |  Attractions |  Shopping
Adirondack Kids |  Adirondack Lifestyles |  Business Profiles |  Business Directory |  Classifieds
Meet Our Sponsors |  Adirondack History |  Chat Room |  Return Home
BACK TO THE TOP


43 Broadway
Saranac Lake, New York 12983
Phone: 518-891-3745    Fax: 518-891-3768
E-Mail: Adirondacks.com

This website is owned and operated by
adirondacks.com internet publishing group.
For advertising and editorial content,
please contact Rob Grant;
adirondacks.com reserves the right to reject,
modify or cancel any advertising at its sole discretion.
© Adirondacks.com - all rights reserved