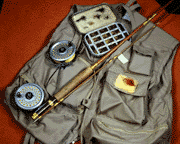 Get the inside scoop on the best places to go fishing, where to stay, who the local experts are and where to buy the best equipment!

P.S. If you've got a secret spot you'd like to share, let us know.
If you want to keep it a secret, we understand.

Yankee Guides & Outfitters
254 Genesee St. Chittenango, NY 13037 - (315) 687-6300
Yankee Guides & Outfitters offers Remote Fly-Ins and Drift Boat Fishing. A Full Service Fly Shop and Camping and Backpacking Supplies. Offering 4 great fishing getaways including Remote Brook Trout and Bass Fly-Ins, West Canada Creek, Poland NY, High Peaks, Adirondacks, Lake Champlain. Also offering a Childen's Panfish Special!
Back To the Fishing


Calendar of Events |  Vacation Rentals |  Real Estate |  Lodging & Accomodations
Dining |  Summer Sports |  Winter Sports |  Arts & Crafts |  Attractions |  Shopping
Adirondack Kids |  Adirondack Lifestyles |  Business Profiles |  Business Directory |  Classifieds
Meet Our Sponsors |  Adirondack History |  Chat Room |  Return Home
BACK TO THE TOP


43 Broadway
Saranac Lake, New York 12983
Phone: 518-891-3745    Fax: 518-891-3768
E-Mail: Adirondacks.com

This website is owned and operated by
adirondacks.com internet publishing group.
For advertising and editorial content,
please contact Rob Grant;
adirondacks.com reserves the right to reject,
modify or cancel any advertising at its sole discretion.
© Adirondacks.com - all rights reserved